6 Fresh Landscaping Design Trends for 2020
Last year we addressed a few "on-trend" landscape design ideas for 2019, in hopes that readers would seize the opportunity to create a stylish landscape early (before their competitors joined the bandwagon!).

Some hot themes in 2019 included multifunctional landscape designs (like adding spaces with more than one purpose), modern industrial elements (pairing natural wood and manufactured metals) and asymmetrical layouts. Environmentally-friendly additions like pollinator gardens exploded too, as did bold colors featuring coral-hued accents.

With the new year upon us, let's look ahead to the rest of 2020— and see what landscape trends are likely to emerge this year:
1. Low-Maintenance Design
It's no surprise that people want a landscape that doesn't require a lot of work. We've been moving towards minimalistic, simple design trends for years, but in 2020, many property owners and landscapers alike will be prioritizing low-maintenance landscaping.

This will mean incorporating drought-tolerant plants which require less watering, choosing perennials over annuals to avoid frequent planting, picking shrubbery and trees with minimal pruning requirements, replacing grass/plants with stonework, mulches, etc. to avoid weeding and watering— and much, much more.

When asking your landscaper about their plan for your property this year, be sure to ask about including any of these low-maintenance design ideas.
2. Combining Indoor & Outdoor Space
Many property owners are seizing the opportunity to expand their space without costly construction or additions. This year, consider ways that you could bring the vibrant outdoors inside or take the comforts of the indoors out.
If you have an educational center, can you create a dining space with retractable doors for students to eat outside when the weather is nice? If you manage a park system— which is all already outdoors— can you create covered, lounge spaces under a gazebo?
Get creative, turning to ideas for how homeowners today are achieving the perfect balance for inspiration.
3. Vertical Gardens
You probably noticed indoor garden walls inside of trendy establishments this past year. These lively plant walls are often vibrant and earthy, adding a colorful touch of nature to otherwise industrial spaces. While many businesses are bringing these walls in, these vertical plant gardens originated out— and in 2020, this landscape trend is projected to reemerge.

This year, brainstorm ways you can suspend or draw plantlife up, and watch the possibilities grow. Build a terra cotta planter wall on a fence by the apartment complex you own, or construct a shabby-chic pallet tower outside of your retirement center for residents to plant herbs. Add hanging planters above an overhang, construct a stand-alone wall or incorporate crawling ivy up lattice.

Explore more vertical garden ideas from CountryLiving.
4. Multipurpose Plantlife
Can the vegetation that you plant serve more than just an aesthetic purpose? While it's important to ensure your commercial property looks appealing and inviting, many landscapers will look for plantlife that serves numerous purposes in 2020.

For instance, certain plants can act as natural insect repellants, keeping pests like mosquitoes and ticks at bay. Other plants give off wonderful scents to create a specific mood for guests, such as the calming lavender plant or stimulating mint.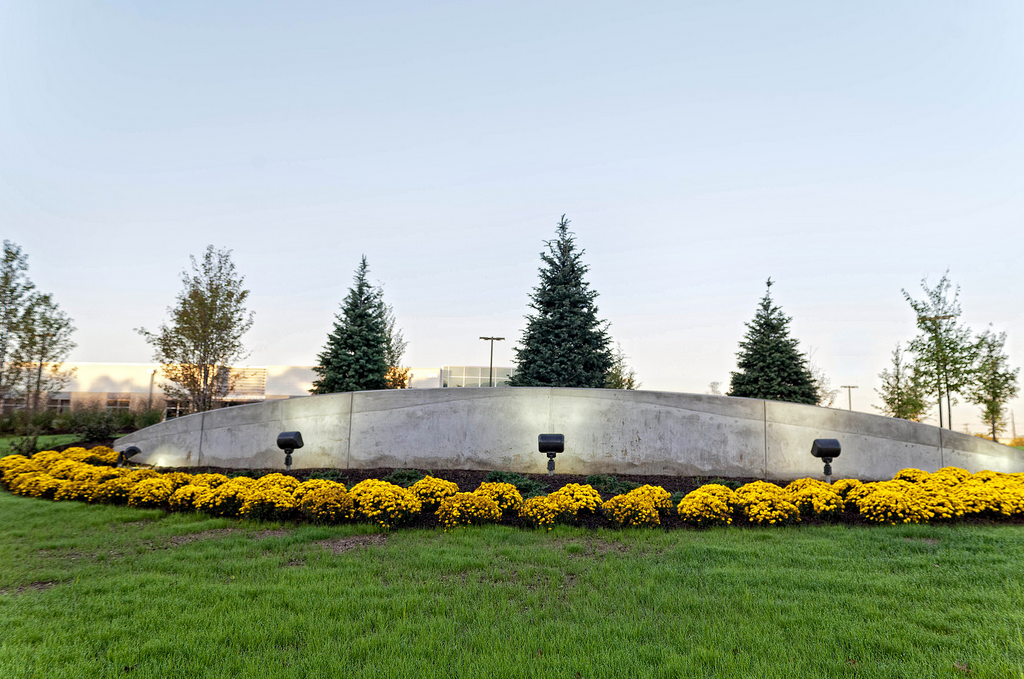 Or, you could plant a community garden for the residents in your homeowners association to help maintain. According to the 2020 Garden Trends Report, gardening will continue to grow in popularity this year (and for the next three years to come), even in commercial settings.
5. High-Powered, Minimalistic Lighting
Landscape lighting is always a topic of discussion, as the right lighting can not only increase your property's visual appeal, but also serve as to increase its security and safety. This year, the idea is "fewer, stronger lights."

When selecting outdoor lighting, choose high-powered lights that create brighter spaces without clutter. It's even better if you can find solar-powered lighting, which can be an eco and cost-friendly solution for illuminating most spaces. These sun-energy lights even tie in with our first trend on low-maintenance design.

We also talked about multipurpose plantlife above, and we encourage you to think of ways your lighting might serve more than one purpose. For example, many landscapes are adopting clever space heating lighting— like these infrared heat-emitting lanterns— to both warm up and illuminate spaces this 2020.
6. A Pop of Indigo
Each year, the National Association of Landscape Professionals (NALP) declare the hot new "in" color. For 2020, blue is predicted to take the stage as The Color of the Year, specifically, the shade Indigo.

Think of ways you can add a touch of blue to your landscape design this year, whether it be a bright turquoise planter pot, adding a beautiful baby blue hydrangea bush or dotting your garden with navy decorative statues. Because water features are blue in color, consider adding a bird bath, waterfall or foundation to your landscape as well, for a literal splash of blue.
Your On-Trend Landscapers
Here at C. Caramanico & Sons, Inc. we keep up with the ever-evolving trends of commercial landscaping.

Stand out from the competition with clever, modern design ideas— added with professional quality and care.
Request your commercial property assessment today.