At C. Caramanico & Sons, Inc. our commitment to landscape safety is based on our vision of a work environment that values the welfare of the individual, instills a sense of ownership, and embraces excellence in all aspects of performance.
We are committed to adding value to your business by adhering to best-in-class safety and service protocols. We pledge to place the safety and well-being of our customers, employees, and subcontractors first and foremost.
To create and maintain individual responsibility for day-to-day operations we conduct root-cause analyses, participate in landscape safety programs, and recognize employees that promote safe work habits.
Daily Stretch & Flex: All team members gather around the yard for a morning stretch prior to starting the day.
Thursday Tailgate Talk: Held at 6:30 AM every Thursday. All employees are required to attend.
Topics Include:​
PPE (Personal Protective Equipment)

Safety

Equipment Training

Horticultural Best Practices

Fundamental of the Week (The Caramanico Way)
​Job Site Safety Inspections: Random job site inspections are held to check crews for safe work practices.
​Fleet & Equipment Safety Inspections: Inspections held by Fleet Maintenance Team are completed daily, weekly, monthly, and annually.
​Safety Committee: Safety Committee meets once a month to review training needs to avoid potential problems in the future.
Standard Operating Procedures (SOP): Our SOPs are reviewed and updated annually for efficient Employee efforts.
​Safety Award Program: Employees with zero reported injuries are celebrated annually.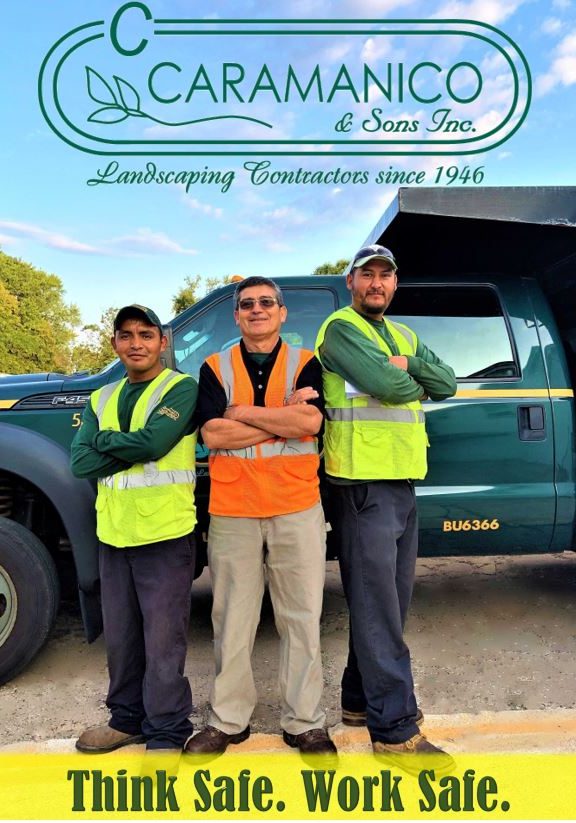 C. Caramanico & Sons, Inc.'s Safety Committee is certified by the Commonwealth of Pennsylvania, Department of Labor & Industry, Bureau of Workers' Compensation.