5 Ways to Create an Inviting Fall Landscape for Your Commercial Property
There's something magical about the fall. That cool breeze starts to ruffle your hair and a comforting waft of cinnamon fills the air. Pumpkin latte cravings tickle your throat and warm scarves envelop your neck.

Why not bring the wonders of fall to your guests at your commercial property? Make your visitors feel welcome by celebrating autumn both inside and out of your business.

In this post, we're focusing on a few tips for enhancing your exterior. Here are five ways to create an attractive fall landscape: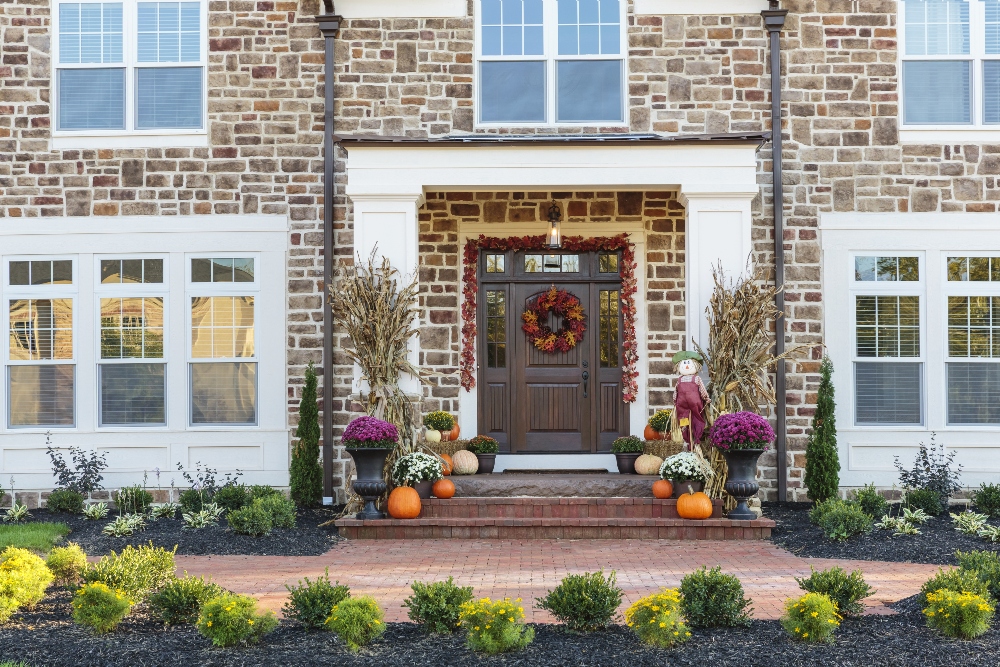 1. Pick a Theme
Have you ever seen a festive mall display that blew you away? Maybe it was during the wintertime and it was reindeer pulling Santa's sleigh or during Valentine's Day, featuring Cupid shooting arrows.

Whether you're a university decorating the exterior of a student center of a senior living facility polishing up an outdoor seating area, it can help to stick to a theme.

Spiders and webs, friendly scarecrows or ghosts and ghouls: choose one area of focus that just screams autumn or Halloween. The coordination helps to tell a fun story and keeps the area from becoming non-cohesive by featuring too many random elements.
2. Add the Right Touch of Fall Decor
There are a lot of natural elements you can add to your commercial property's outdoor space to create a fall feeling. Placing hay bales, corn stalks, pumpkins and gourds, and festive wreaths instantly add an earthy autumn touch. Because these features are natural, they blend in easily with almost any architecture.

Don't stop there. Swap out the bulbs in your light posts or spotlights with an amber-hued bulb to tint your evenings in a warm glow. Or, string up red or autumn-colored lights on your bushes, around your railings or along your walkways. If you're in an office complex with windows, add battery-operated candles, ceramic pumpkins or lanterns.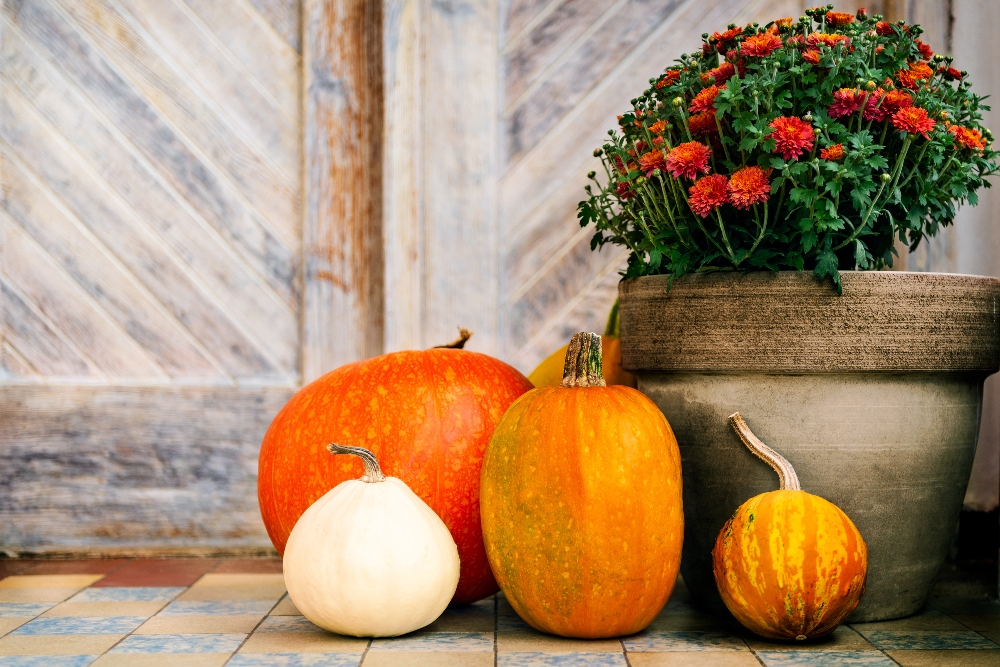 Here are a few more great tips for outdoor fall decorating.
3. Don't Forget Your Doors
Your entryways are the perfect spot to frame all your fall favorites. Attract guests into your medical facility or complex by hanging a nice wreath arrangement with dried corn husks, colorful leaves, chrysanthemums or mini plastic pumpkins.

Plant seasonal flowers in wicker baskets or wooden planter boxes, featuring bright ornamental purple cabbage, sunflowers and marigolds. Consider adding a seasonal doormat to welcome visitors in style.

Your doorways are also wonderful spots add features we mentioned above, like extra lighting and natural touches.
4. Maintain a Healthy Autumn Turf
Just because cooler weather is sweeping in, it doesn't mean that your grass has to yellow and fade right away. In fact, if properly cared for, your turf can maintain its vibrancy and luster well into late autumn.

Keep up with your commercial property's landscape by clearing any debris, like fall leaves and twigs. September is the ideal time to aerate your soil and overseed any bare batches so that your turf has a protective coat over the wintertime.

Nourish your grass and soil with a slow-release fertilizer or limestone application and be sure to maintain mowing throughout late October, or until the cooler temperatures cause growth to come to a halt. Autumn is also a surprisingly high-risk time for disease, so protect your turf from pests and bugs with an insect treatment.

Be sure to read our other article on tips for keeping your lawn healthy this fall.
5. Plant Cold-Resistant Flowers & Plants
While filling your flower boxes and pots with annuals can make your commercial property look inviting during the peak of fall, these beauties will likely not make it through the first frost.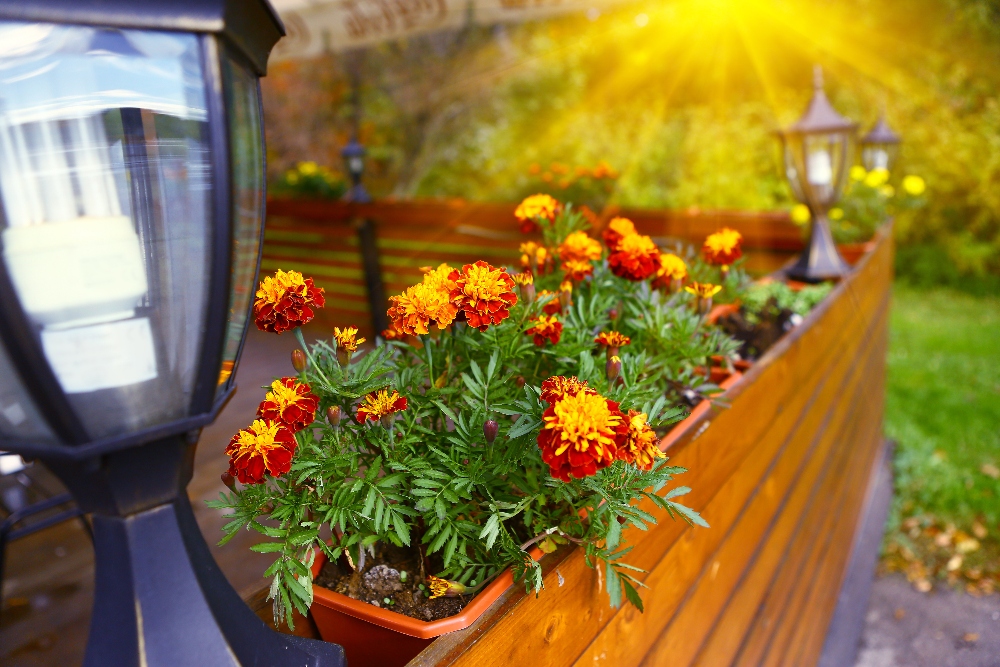 Consider adding cold-resistant perennials, which will survive Pennsylvania's harsh winter and return in the spring. Plants like holly bushes, dogwood trees, and snapdragons are not only festive for autumn but will keep your property looking sharp for many seasons to come.
Think Ahead
You're working hard to create an inviting fall landscape. Why not do some winter prep while you're at it?

Winterize your plants, prepare ahead for snow and ice and follow our other tips for cultivating a landscape now that will last throughout the winter.

Our team at Caramanico can help you with all of that and more. From homeowners associations and industrial complexes to offices and parks, we'll take care of your fall decorating and winter prep.