5 Fall Cleanup Steps to Prepare Your Commercial Landscape for Winter
Winter is moving in fast. Have you prepared your commercial property for the cold weather ahead with a thorough fall cleanup?

Here are five simple ways to enhance your landscape, so it'll look great and survive strong all winter long: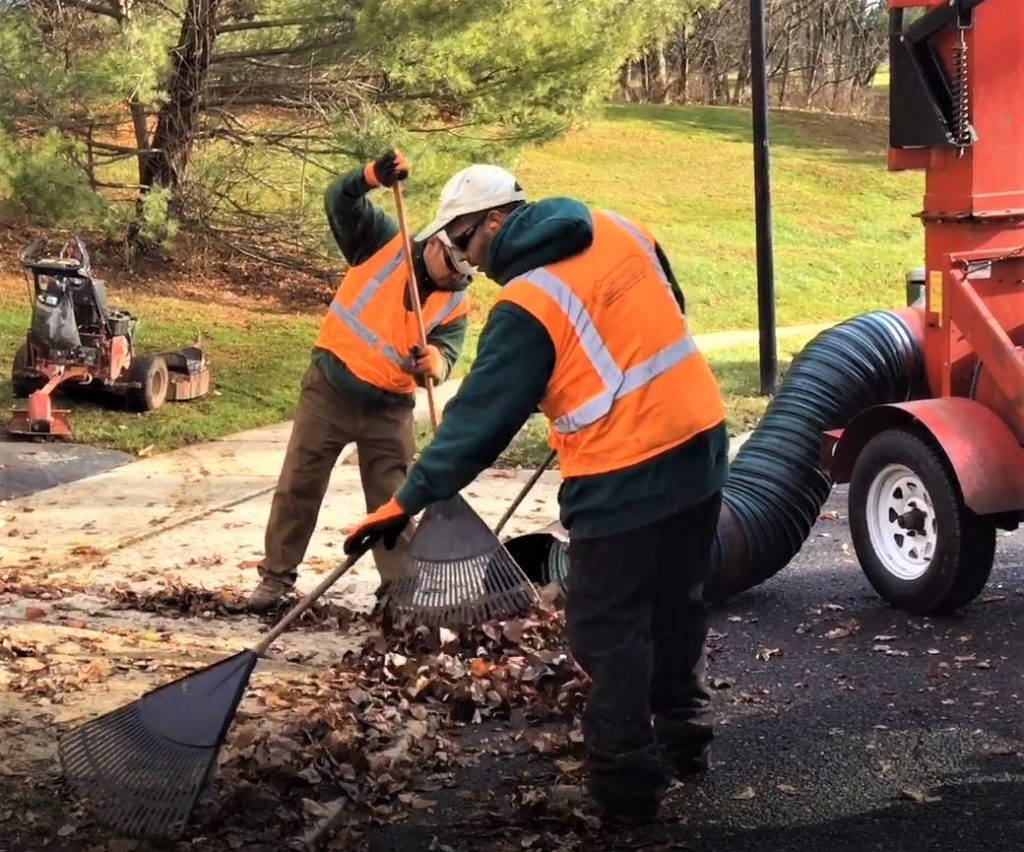 1. Turn Over Your Mulch
If your commercial property uses mulch around your garden beds or throughout your landscaping, fall is the perfect time to give it a refresh. Harsh summer sun and a few months of heavy rainfall can remove the color and richness of your wood chips.


Instead of replacing your mulch entirely, extend the life of your investment by turning over your current layer. This can be done with a simple shovel, pitchfork or garden rake. Here are a few tips for turning your mulch efficiently.

If you do decide to replace old mulch, beware of the dangers of over-mulching. Excessive mulch retains a lot of moisture, invites pests and can expose your plants and trees to disease over the wintertime. Even the acidity of certain mulches can throw of your lawn's pH. Learn more about how you can avoid over-mulching here.
2. Aerate & Dethatch Your Turf
Ever hear of thatch? Thatch is just a name your landscape's dead grass stems and roots. It naturally accumulates if your lawn builds up more debris than it can break down in a timely fashion.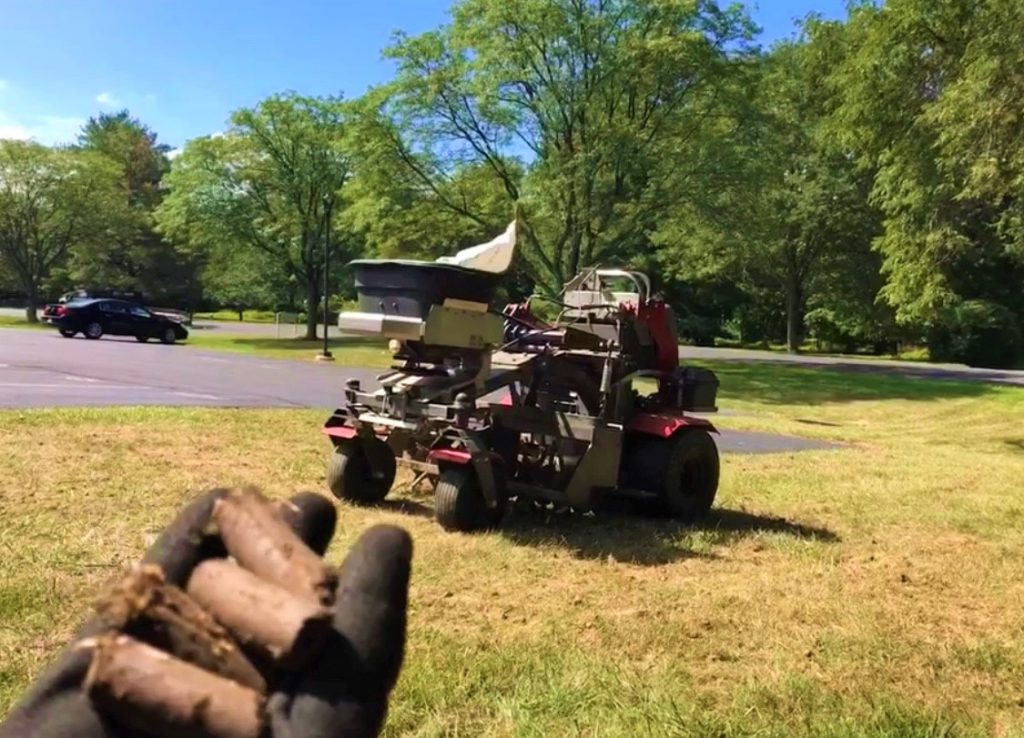 Not only can thatch make your commercial property look messy, but it's the perfect nesting material for rodents and insects. Fortunately, a simple aeration can help to churn your soil and integrate thatch remains into your landscape. Plus, once these seeds are planted in the aeration holes, new grass will thicken your turf. Strong, healthy grass is the key to keeping fresh thatch from forming.

Before you aerate and overseed, read our post on 7 Aeration And Overseeding Mistakes You Should Avoid.
3. Wrap Your Trees & Shrubs
Did you just plant new trees or shrubs on your commercial property within the past three years? If so, you should be wrapping them before temperatures drop below freezing. Here in Pennsylvania, we recommend doing this late December or before the first frost hits.

Sheltering the base of your trunks or your shrubbery with protective burlap or specialized wrapping material works as a wind barrier, reduces the likelihood of salt damage from harsh deicer products and more.
4. Schedule Tree Trimming
Winter is the ideal time to cut any damaged or overgrown branches, as it's when your plant goes into a state of dormancy and won't deplete needed energy to recover until it "wakes" back up in spring— like it would if you cut it in the fall. In fact, there are a lot of reasons that winter is the best time to trim your trees in PA.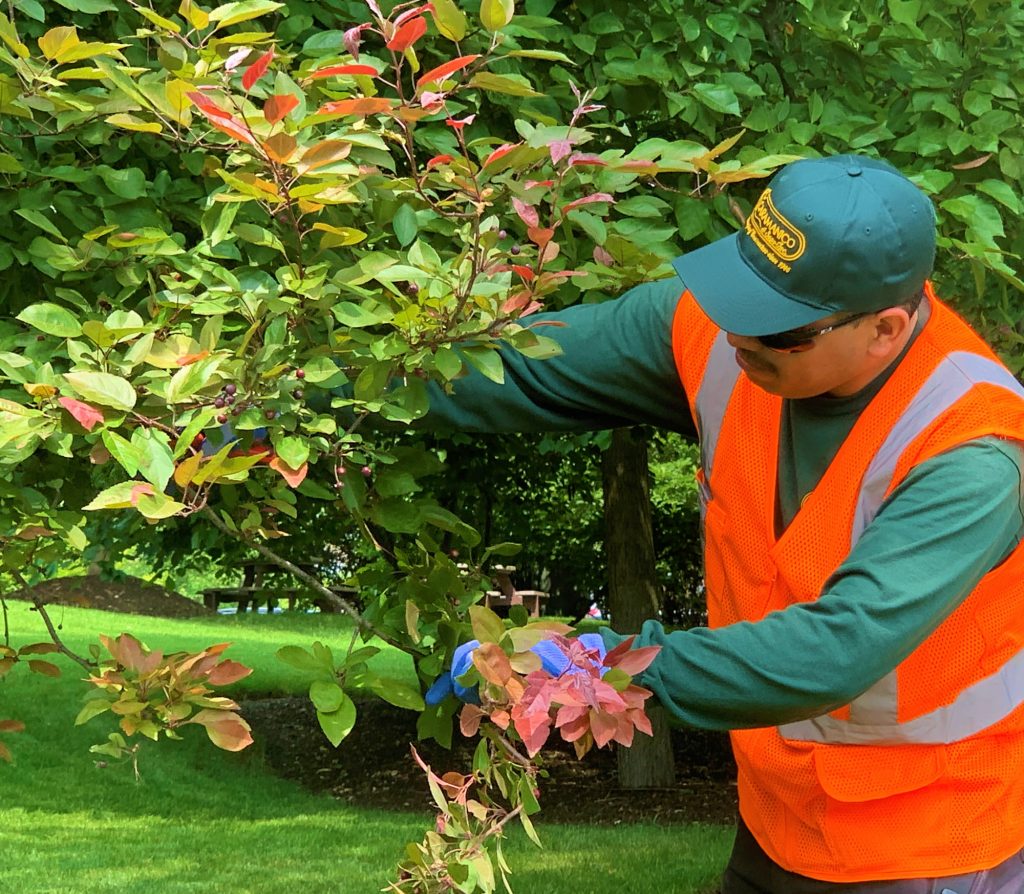 Be proactive and get a tree trimmer in line for pruning your landscape now. The crew can even come to your property and assess it during autumn, so they can accurately provide an estimate and get working right away come winter.
5. Remove Fall Annuals & Add Cold-Resistant Plants
If you planted lovely seasonal fall annuals throughout your property like gorgeous mums, you must have these removed to maintain your curb appeal. But don't leave your property bare and deary during the cold-weather months.

Swap out fall plants for more suitable winter vegetation to bring life to your business or establishment all season long— and for many years to come. Here are a few stunning cold-resistant perennial plants that grow great in Pennsylvania, including coloring flowering Iris and lively holly bushes.

Ask us about how we can help to winterize your plants or create a sharp winter landscape for your commercial property.
Get Ready for Winter with the Help of Caramanico
What do you know? Our team is here to assist with every fall clean-up item on this list.

Request your commercial property assessment now and let us get started revitalizing your business or establishment right away.