7 Aeration & Overseeding Mistakes You Should Avoid
7 Aeration & Overseeding Mistakes You Should Avoid
We all want a bright green lawn, but after a harsh summer or winter, your turf is likely a little dull, thin, or patchy. Check out these 7 aeration and overseeding mistakes to avoid to get the think, healthy look you desire.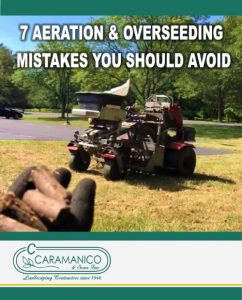 Landscape maintenance can be time-consuming— and there's a lot of dos and don'ts along the way!
Our team at C. Caramanico & Sons, Inc. is here to get the job done right and prepare your turf for vibrant growth.