UPLAND, PA: March 2021 – For the last 75 years, C. Caramanico & Sons, Inc. has been a trusted landscaping company servicing over tens of thousands of acres of turf and employing thousands of employees. C. Caramanico & Sons, Inc.'s mission is to build long lasting relationships with customers, vendors and employees by providing the highest level of landscaping service in the Greater Philadelphia Region.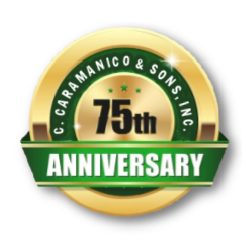 From our start in 1946, C. Caramanico & Sons, Inc. has embraced a core value of charitable giving to local communities including youth leagues, schools, hospitals, charities and more. From field cleanups on Earth Day in the City of Chester to building new bikes for the Boys & Girls Clubs of Philadelphia, C. Caramanico & Sons, Inc. is devoted to helping improve our community.
Let's go back in time from the beginning…
PRE-WORLD WAR II
In the 1930s, Carmine Caramanico, an Italian immigrant, operated a small gardening service from his home in West Philadelphia, the Overbrook section of the city. Not being fluent in English, his young sons Dan and Dom helped him while attending school. Carmine had one truck and traveled to the suburbs to mow lawns. Dan and Dom helped him with the work and had to communicate with the customers and collect money for the services.
THE 1940'S
Having graduated from Saint Thomas More High School in June 1941, both sons were drafted in the army after Pearl Harbor was attacked and our country joined the allied forces in World War II. They promised Carmine they would support him and their mother Giovina while they were away. To make sure Carmine didn't sell the one truck he owned, the boys parked the truck behind a neighbor's garage and jacked it up. World War II ended, and Dan and Dom returned to Philadelphia and with their father began a new residential landscaping service called Carmine Caramanico & Sons, Landscape Gardening. With many new businesses in the workforce after the war, Carmine, Dan and Dom knew that they had to work hard to remain in business. However, it was not just hard work that would plant their business and make it grow. They sowed in strong values as well. Quality work, excellent customer service and building strong relationships were at the root of everything they did.
THE 50'S AND 60'S
Dan and Dom moved the business out of the city to Springfield in 1950. It was there that they quickly expanded their customer base as new residential construction was booming in Delaware County. The business expanded to include asphalt services, and soon they were one of the best providers of landscaping, driveways and walkways for the most prominent builders in area.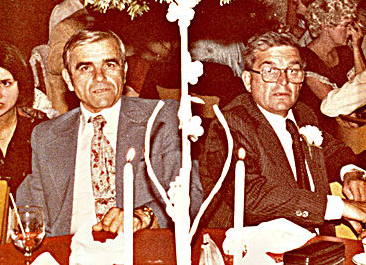 THE 70'S AND 80'S
A small nursery operation in Gradyville, PA was started to grow evergreens and flowering shrubs for the housing developments, and soon the sons were expanding into the commercial market by landscaping small office buildings and fast food restaurants. By that time the company had expanded to 20 employees. In 1985, Dan's sons, Michael and John bought the business. They incorporated the business and turned their focus to commercial landscaping with a specialty in landscape maintenance and installation.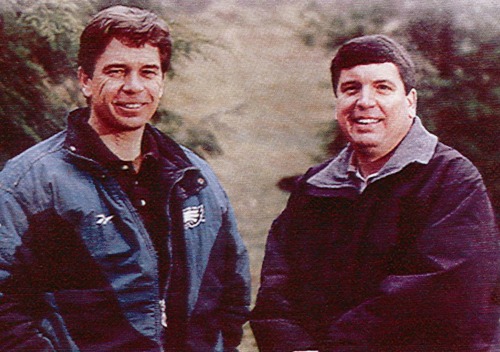 THE 90'S AND 2000'S
In the early 1990s, the business continued to expand and added excavation projects such as golf course and athletic field construction. Hardscaping, including patios and retaining walls, soon followed. In 1999, the business moved to Upland, Delaware County to a 3-acre complex that includes an office, a 5000-square-foot workshop for maintaining trucks and equipment, and outside storage for bulk materials and supplies. In 2013, the company was honored by The Delaware County Chamber of Commerce with the Family Business of the Year Award.
In 2014, John's sons John Jr. and William bought the business and have focused on growing the commercial landscape maintenance division along with snow and ice services. John and Bill are 4th generation owners. They continue to operate from Upland in Delaware County, and have added satellite locations in West Chester PA, Camden NJ, and Allentown, PA.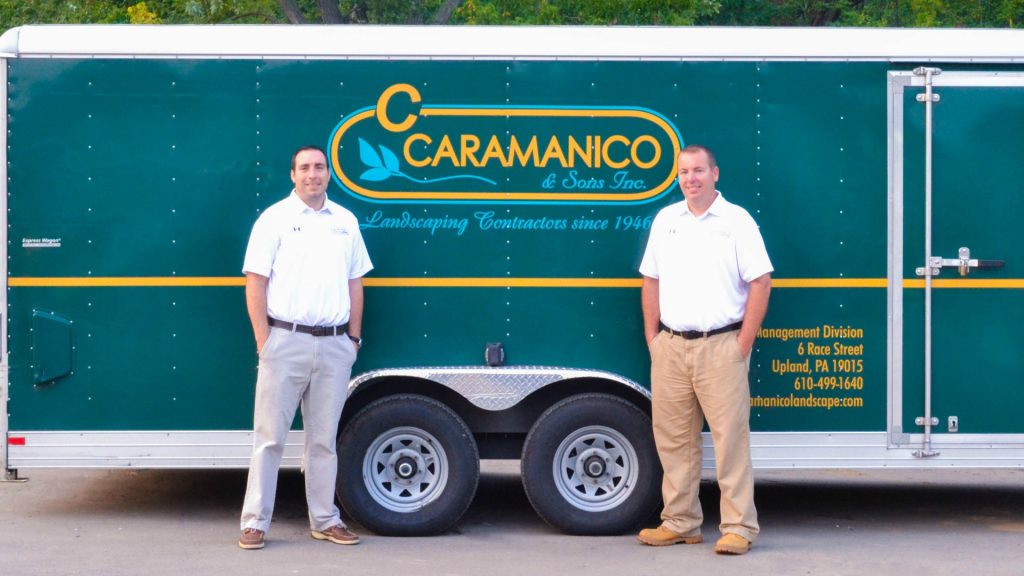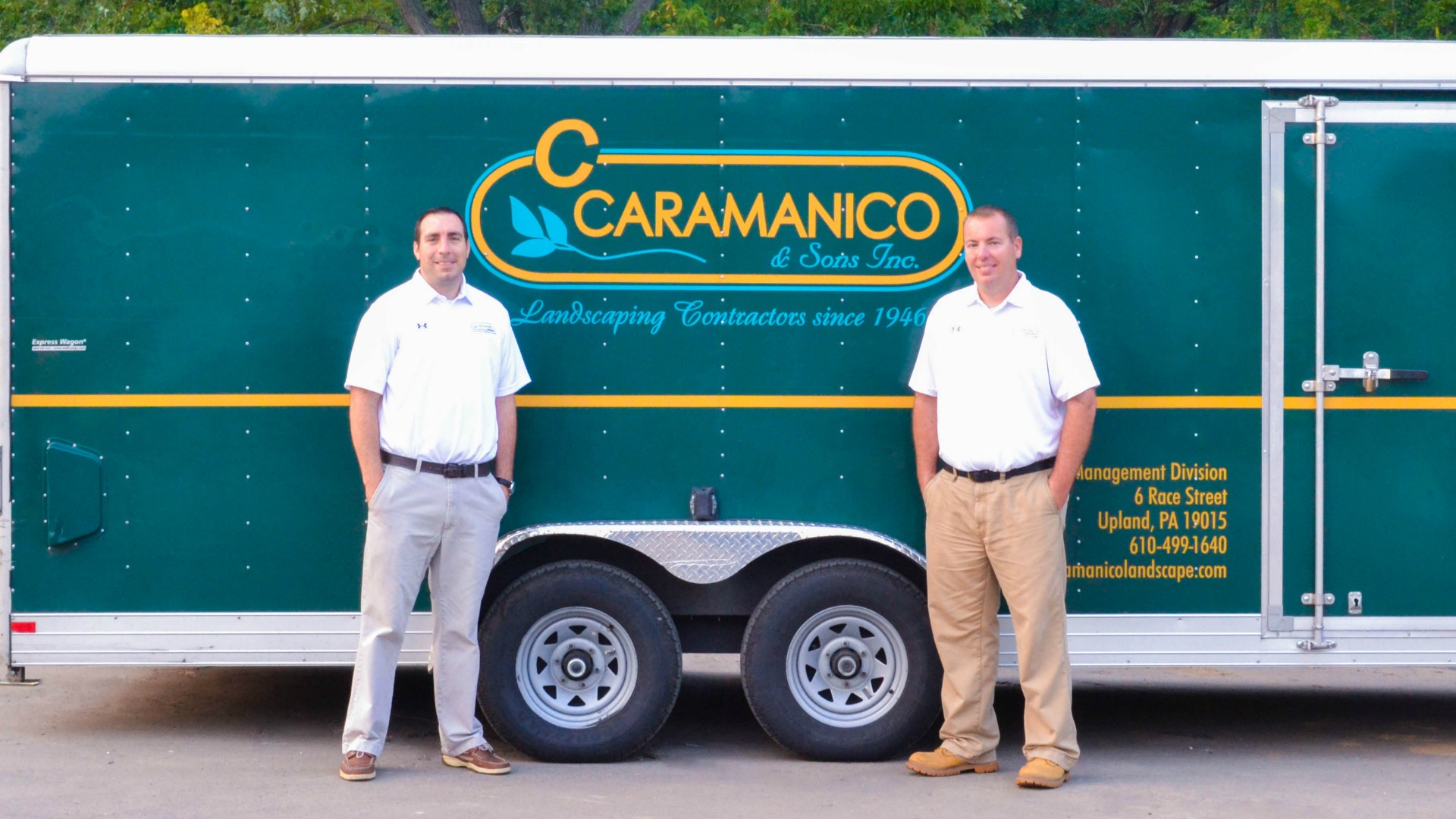 The business has grown to 100+ associates and is regularly included in Landscape Management Magazine's Top 150 list of Landscape Contractors. In 2015, C. Caramanico & Sons, Inc. was awarded a Merit Award of Excellence by the National Association of Landscape Professionals for Central Green at The Navy Yard. In 2016, the company's Safety Committee was certified by the State of Pennsylvania's Department of Labor and Industry. In 2018, John Jr and Bill introduced The Caramanico Way, a vision that describes the values, behaviors, principles, and practices that are the foundation of their unique culture. It explains how the entire company relates to each other, their clients, and even their suppliers. It's who they are, and it's what drives their extraordinary success.
INTO THE FUTURE
As we celebrate the 75th anniversary of C. Caramanico & Sons, Inc. and embark on the next phase of this company, the keyword that reignites us is GROWTH.
We are excited to witness the growth our of employees and team members. As we grow our portfolio of maintenance accounts, it will create an amazing opportunity to grow the careers of our current team members in the green industry. We plan to promote from within for open management positions as our client's portfolios grow. We also plan to grow our team member's knowledge base through safety, production, and landscape training.
We plan to grow our maintenance portfolio and focus on customers that value landscape curb appeal, best in class communication, fantastic response, and a trusted partner for commercial landscape maintenance in all four seasons. We will continually be looking to grow, upgrade and enhance our clients' properties proactively through landscape enhancements and upgrades. C. Caramanico and Sons, Inc. cares just as much as our clients do about the appearance of their property – we have built our careers, livelihood, and legacy on attractive landscapes. We will continue to partner will our landscape maintenance clients to be their worry-free snow vendor that delivers high quality service with a sole focus on keeping visitors, staff, and tenants safe.
Caramanico and Sons, Inc. will continue to grow our utilization of technology. We will continue to invest in the latest and great equipment for our team with an emphasis on reducing risk, maximizing efficiencies, user friendly customer service, and producing higher quality landscapes for our customers.
Aspire Software – Provides our team real time information in the field, in the office and anywhere an internet connection is available. Integrates all internal departments creating a user-friendly experience for our customers.
Equipment – Maintain an updated fleet of trucks and equipment so that our teams can focus on delivering service to our customers and not worrying about equipment issues.
Robotics – In 2021, C. Caramanico and Sons, Inc. is part of a pilot program with Electric Sheep. Electric Sheep will assist in proving robotic mowers that can handle the most mundane task during our routine site visits – mowing. In the future, The Robotic Mower will perform mowing while the crew can focus on site details such as bed maintenance, plant healthcare, and landscape details. Robotics will NEVER replace our front-line landscape technicians – it will instead assist in delivering high quality landscapes to our clients. Robotic mowers will be a "Tool in our Tool Belt".
Salt Brine – C. Caramanico and Sons, Inc. will continue to utilize our salt brine technology. Salt brine reduces our use of standard crystalized salt will continued to be utilized with our snow operations. Spraying brine on roadways before the storm arrives, requires approximately one-third to one-fourth the material of deicing, making it the more cost-effective and environmentally friendly option.
Ventrac Sidewalk Equipment – C. Caramanico and Sons, Inc. has invested $500,000 in sidewalk specific snow equipment for our snow teams will the industry best sidewalk equipment. This equipment allows for efficient clearing of walkways, less use of harsh ice melts on walkways and focus on our front-line employees that they are utilizing the industry's best equipment to get their job completed in harsh winter conditions.
Snow Containment Plow – Snow pushers have come a long way in the last 20 years since their introduction into the market in early 2000's. C. Caramanico and Sons, Inc. will be upgrading our current fleet of pushers from rubber cutting edges to steel edges. This will allow for a cleaner scarp of parking lots which in turn will reduce salt usage.

---
Landscape Management's Editor-in-Chief Seth Jones catches up with John Jr. & Bill Caramanico of C. Caramanico & Sons. The company will be celebrating 75 years in business later this year. The brothers speak about first breaking into the family company, the day they officially took over and more.
About C. Caramanico & Sons, Inc.
C. Caramanico & Sons, Inc. provides award-winning commercial landscape management services throughout the Greater Philadelphia area.