Why You Can Trust Our Team at Caramanico with Your Commercial Landscaping
When it comes to choosing commercial landscapers, there are certain qualities you should look for in a company. Luckily, we've got them all.
Here are just a few qualities that set our team at Caramanico apart from the competition:
We Pride Ourselves on Superior Dependability
People call us all the time saying that their current snow removal provider isn't clearing their commercial business lot fast enough, deterring their employees and customers after a storm. We're proud to say that here at Caramanico— we don't have that problem.
Once you become part of our family, we take care of our own. No excuses. In fact, we have a mechanic on-site at all times, on the happenstance we need to perform truck or equipment repair to keep our crews working.
Our work trucks are all equipped with GPS. Plus, the open communication channels between our fleets help to ensure we can get to our clients quickly. As a commercial business customer, you'll even be assigned your own personal account manager— who you'll know by name and can get you the assistance you need, any time.
We Have a Nearly 100-Year Reputation
Our family has had a name for itself in landscaping since the 1930s when Carmine Caramanico began a small gardening service from his home in West Philadelphia.
We've since grown to a four office landscaping service brand, with locations in Upland, West Chester and Allentown, PA as well as Camden, NJ.
With over 100 workers and numerous recognitions— including being featured in Landscape Management Magazine's Top 150 list of Landscape Contractors— we've developed an extensive network and reputation for excellence within our territories.

Learn more about our long-standing history here.
At C. Caramanico & Sons, Inc. We Put a Huge Emphasis on Safety & Training
When it comes to landscape construction, we use some large pieces of equipment. And while our excavators, skid steer loaders and other machinery aid in hardscaping, transplanting and adding drainage solutions, they can also be quite dangerous in the wrong hands.
Improper equipment operation can damage your site and threaten the safety of not only our workers but of your employees and customers. That's why at Caramanico, we partner with Greenius to ensure all our team members are extensively trained on every piece of machinery in our landscaping fleet.
To top it off, our Safety Committee has certified by the State of Pennsylvania's Department of Labor and Industry since 2016.
In fact, we put such an emphasis on safety that's it's become a daily priority on every job. Our maintenance team holds frequent equipment inspections, as well as conducts random site inspections to guarantee crews are always following safe work practices. Plus, every Thursday afternoon, we gather around for a "Tailgate Talk," reviewing protective measures and reminding crew members old and new of important best practices.
We Serve a Wide Range of Commercial Industries
We don't just tend to office complexes, although we can beautifully build or maintain these landscapes too. Our team also works with office complexes or shopping malls, creating stunning enhancements.
In addition, we add greenery to apartments and condominiums or for homeowners associations, as well as large park systems or educational properties, like campuses for colleges and universities.
Our landscape portfolio is as diverse as it is wide, and no job is too big or too small.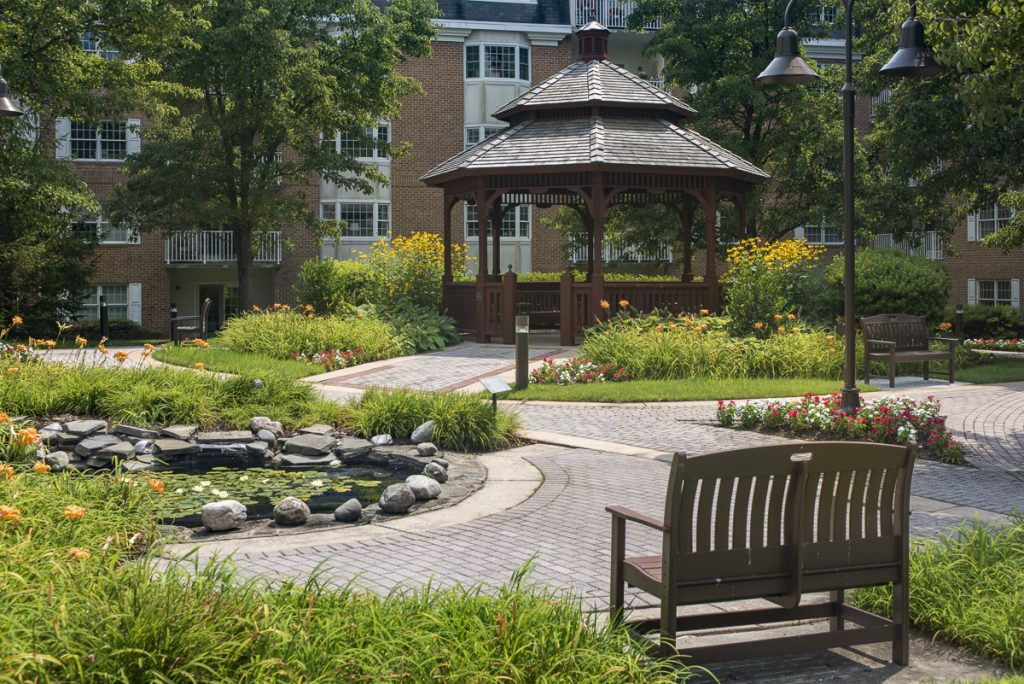 Explore Our Commercial Landscaping Services
If our team at Caramanico sounds like the landscape professionals that your business or complex needs in the Greater Philadelphia Area, explore our Landscape Maintenance, Enhancements, Construction or Snow & Ice Management Services.

Then give us a call at 610.499.1640 or use this form to contact us. We're happy to get started on your big project or polishing your property, right away.